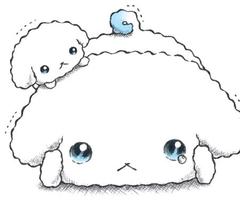 Buru Buru Dog is a San-X character created in 1999, and is shown as an extremely tiny, constantly trembling and weeping dog.
More on Buru Buru Dog
Edit
He loves jello and playing hide-and-seek. He is weaker when it rains. His tail is blue when he is scared, but when in love their tails turn pink.
Fun Facts
Edit

More San-X characters here: San-X Character Listings
Ad blocker interference detected!
Wikia is a free-to-use site that makes money from advertising. We have a modified experience for viewers using ad blockers

Wikia is not accessible if you've made further modifications. Remove the custom ad blocker rule(s) and the page will load as expected.